JD Sports sees 64% rise in half-year profits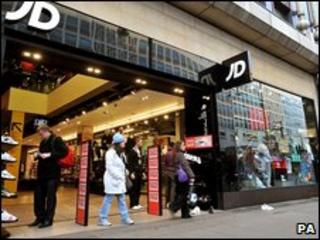 Sports retailer JD Sports Fashion boosted profits by 64% to make £16.6m for the six months to the end of July.
It said sales for that half of the year had been boosted by the World Cup, but that second-half trading had also got off to a solid start.
The group trades as JD Sports, Chausport, Size, Bank and Scotts from over 530 stores.
So far this year, the company has opened 11 stores, more than double last year's five outlets.
The company's statement said the emphasis for the year's trading remained on the key Christmas period.
It said: "The result for the full year remains very dependent on the sales and margin performance in December and January."