Betfair planning stock market flotation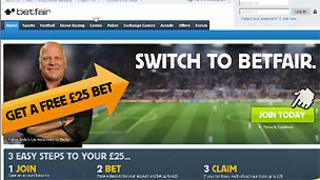 Betfair, the online sports betting provider, has said it plans to list its shares on the London Stock Exchange.
The company, which is estimated to be worth £1.5bn, was founded 10 years ago.
It says since then it has grown into the world's largest business of its kind.
Betfair has three million customers and pioneered person-to-person betting, where punters bet against each other rather than the bookmaker on a range of sports.
The site also offers poker and other traditional casino betting forums.
The business is currently majority-owned by 14 major investors who hold 75% of the company.
In a statement, Betfair said it had identified "multiple opportunities to secure future growth".
One area where the company believes it can expand is through a focus on what it calls the "high-growth" football market.
The business is also keen to improve its profile internationally, particularly in the rest of Europe and Australia.
Longer term, Betfair sees potential in the currently "highly restricted" markets of the United States, India and China.
Betfair's founders, Andrew Black, a former professional gambler, and former JP Morgan trader Edward Wray, jointly own one-quarter of the group.