Oxfam sales rise but donations fall as recession bites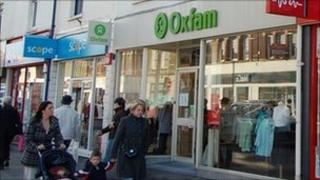 Global poverty charity Oxfam has reported rising sales but falling donations in its results for the year ending in March.
As the recession bit, donations to the UK-based charity fell 3%, but sales of second-hand clothing and goods at its stores rose 2%.
Overall, the charity saw total revenues rise to £318m ($496m).
The strong results came mainly thanks to a £27m jump in grants from governments and agencies like the UN.
About half of the charity's fundraising income comes from governments, Oxfam's head, Barbara Stocking, told BBC Breakfast television.
A lot of this money is related to disasters and emergencies, such as the Haiti earthquake in January, and the Pakistan floods now, and is not affected by the recession.
Mixed performance
However, the recession has hade an impact on trading at the charity's iconic stores.
"First of all sales always do well in a recession - and that's what's happened again," said Ms Stocking.
"But the challenge is always to get donations in. People aren't buying new things, so don't they give us their second-hand ones."
She said the company had tackled this problem in part through innovations, such as its clothes exchange deal with department store Marks & Spencer.
Although the charity saw a fall in cash donations, Ms Stocking thanked the British public.
"Despite belts being tightened at home the British are still leading the way when it comes to generosity," she said.
Cash reserve
Oxfam also reported that it was holding £38m in reserves, an increase of £3m.
This was a standard cash-management policy of the charity, Ms Stocking explained: "If money stops coming in, we don't want to immediately stop our programmes on the ground."
"In the first year of recession, we actually dipped into that by £8m just so we could keep the programmes going."