Protect infrastructure from cuts, CBI tells government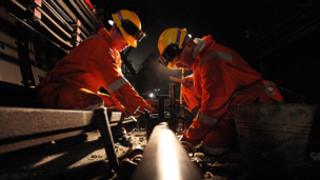 The CBI has called on the government to protect economic growth in its forthcoming spending review.
The business lobby group called for key areas such as infrastructure and education to be prioritised in order to help the economy's ability to grow.
The government's spending review is set to be published in a month.
CBI deputy director general John Cridland said the need for economic growth, not the loudest voice, should determine where cuts are made.
The spending review will target £32bn in cuts every year.
The CBI is urging three key areas to be prioritised in order to boost future growth prospects.
In particular the CBI called for existing transport assets to be maintained, and for work to continue on Crossrail and the London Underground upgrade.
It also suggested savings could be made by cutting concessionary fares.
Capital investment
Mr Cridland said: "Cutting spending means tough choices. We think that the need for economic growth, not the noise of the loudest voice, should determine where cuts are made.
"The government must improve the efficiency of public services and focus the limited public money available on areas that do most to galvanise growth."
According to BBC business correspondent Joe Lynam, the employers' organisation wants spending on infrastructure projects, research and development as well as skills training to be maintained, even as the coalition aims to slash the budget deficit - currently £155bn.
It urged public sector capital investment to return to pre-recessionary levels as soon as possible, and for large research and development schemes to have greater relevance for companies.
The Treasury said the government's plans will support growth and jobs while "rebalancing the UK economy away from an over-reliance on public spending, through targeted support and no further cuts in capital spending".