Pay survey: What people think we should really earn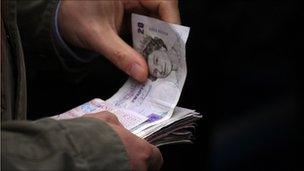 The bosses of Britain's top 100 companies should be paid about £118,000 a year, a BBC survey suggests.
Those questioned also put the pay of Premier League footballers and financial bond traders at £365,000 and £58,000 respectively.
The salaries are a big drop on their actual average pay - a 94% fall in the case of chief executives.
The BBC commissioned research from ComRes about what the public believes 15 professions should be paid.
Those people surveyed were not told what the real pay levels were in those professions.
The findings, part of a BBC Radio 4 programme being broadcast on Sunday, could be a shock for people in many jobs.
The survey of 1,000 people found that most believed the prime minister, secondary school head teachers and train drivers should be paid less.
On the other hand, they believed care assistants and call centre workers should get more.
According to the survey, even if footballers were paid £365,000 - against their average annual pay of £1.7m - that would still make them the highest paid of the 15 professions.
John Caudwell, serial entrepreneur and founder of the Phones 4U chain of shops, told the Radio 4 programme: "I think it's a bit of an indictment of the British public that they think they [footballers] should be the best paid of all members of society."
Pay and Tax: The Radio 4 Debate, 19 September, 1700 BST