Shares in Carrefour rise on plans to revamp stores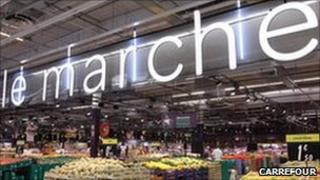 Shares in the French supermarket chain Carrefour have climbed 4.6% after it announced plans to rebrand its biggest European stores.
The company will invest 1.5bn euros ($1.96bn; £1.25bn) to refurbish 500 hypermarkets in Western Europe, rebranding half as "Carrefour Planet".
Its bigger stores have been under pressure as Europe's economy has slowed.
Carrefour is the world's second-largest retailer.
'Reinventing Carrefour'
On Thursday, Carrefour announced it would convert 245 of its 500 superstores in France, Spain, Italy, Belgium and Greece to the "Carrefour Planet" format, which has been trialled in several stores for the past three months.
The remaining 255, which are smaller, would be updated in the "spirit" of Carrefour Planet but remain under the Carrefour banner, said chief executive Lars Olofsson. "By reinventing the hypermarket, we reinvent Carrefour", he added.
In August, the company said it had made a net profit of 67m euros ($85m; £55m) in the first half of the year.
It has been cutting prices and introducing new budget ranges to try to attract price-conscious European consumers.
Traders in Paris reacted positively to the news of the new investment. Shares were up 5% in morning trade, but slipped back slightly to close up 4.6%.