Tax gap has reached £42bn, says HMRC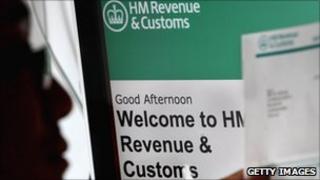 The amount of tax that went uncollected rose in the last financial year to £42bn, HM Revenue & Customs (HMRC) has estimated.
That was £2bn more than estimated for 2008-09 and meant HMRC failed to bring in nearly 9% of all potential taxes.
The biggest shortfall was in VAT, where £15.2bn, or 16%, of all the potential tax was uncollected.
The next largest loss was nearly £6bn of income tax due to inaccurate self-assessment returns.
'Making progress'
HMRC recently admitted that because of the complexity of the PAYE income tax system, it had failed to collect nearly £2.2bn from 2.3 million people in the two years between 2007-09.
About 1.4 million of them are now being asked to pay extra income tax amounting to £2bn.
But the latest report suggests that inaccurate returns from employers under the PAYE system cost the Revenue £3.2bn in 2008-09 alone.
In the past three years, the HMRC has staged high-profile campaigns to flush out unpaid income tax from people with foreign bank accounts and from groups such as doctors and dentists.
However, the annual amounts of income tax lost to deliberate evasion are relatively small.
Of the £14.5bn of direct taxes (income tax, national insurance and capital gains tax) not collected last year, only £1.3bn was attributed to ghosts (people who fail to declare their taxable income) and £1.8bn to moonlighters (people who fail to declare income from a second job).
"The Revenue is making progress and UK tax authorities are doing quite well compared to other countries," said John Whiting of the Chartered Institute if taxation (CIOT).
"But there is more to done, especially in deciding if the estimates of how much VAT should be collected are right in the first place."
'Insufficient resources'
Businesses failed to hand over an estimated £6.9bn in corporation tax, according to the HMRC report.
The least effective tax was on hand-rolled tobacco.
Because of smuggling, nearly half (£600m) of all the tax due went uncollected.
HMRC explained that the overall losses on all types of taxation were due to a combination of factors such as:
• mistakes or failure to take reasonable care by the taxpayer
• evasion - the deliberate under-declaration of tax
• the hidden economy - traders who fail to register for VAT or tax losses due to "ghosts" and moonlighters
• legal avoidance strategies and legal challenges by taxpayers
• and criminal attacks such as VAT carousel fraud.
The Public and Commercial Services union (PCS) argued that the overall tax-gap was nearer £130bn each year.
"What is clear is that insufficient resources are being dedicated to collecting tax, including that which is being avoided or evaded, largely by very wealthy individuals and organisations," said the PCS leader Mark Serwotka .
"In the five years since HMRC was formed, 30,000 jobs have been cut, the majority of which were directly responsible for tax collection.
"Starting to collect these massive sums lost to our economy every year would be a major contribution to the alternative to the government's devastating plans to cut public spending," he added.