AA wants government to scrap planned rise in fuel duty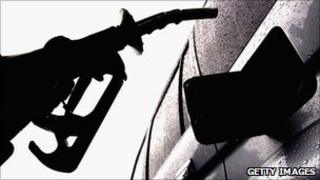 The Automobile Association (AA) has called on the government to abandon plans to raise fuel duty on 1 October.
A recent rise in the cost of crude oil and a weaker pound were already likely to lead to higher pump prices.
AA president Edmund King said that, although pump prices had fallen for the fourth month in a row, the decline could soon be reversed.
"The duty hike could be shelved to help economic recovery, ahead of the 2.5% VAT increase next year," he said.
According to the AA's latest Fuel Price Report, the average price of a litre of petrol fell 1.27p to 115.25p in the past four weeks, with diesel down 1p to 118p.
UK petrol prices are down for the fourth consecutive month, although the report says drivers are still paying on average £4.36 more for a tank of fuel than last year.
The cost of a barrel of crude has risen about $6 in the past month, and on 1 October the government is due to add a further 1p in fuel duty to petrol and diesel prices.
Government windfall
The weaker pound may also make the cost of importing oil more expensive.
The AA's Mr King said: "Pump prices remain precarious with the possibility of a new upswing, and it will be bad timing if the 1p-a-litre fuel duty increase in October coincides with another £1 on the cost of a tank of petrol."
"However, the bottom line is that petrol and diesel prices are around 9p to 10p more expensive than this time last year, providing the government with a VAT windfall of at least 1p a litre," he said.
London is the most expensive area for petrol at 116.2p a litre, with Northern Ireland and Wales dearest for diesel at 118.7p.
Yorkshire and Humberside is cheapest for both, respectively 114.2p and 117.2p a litre.