Fiat agrees to spin off non-car making division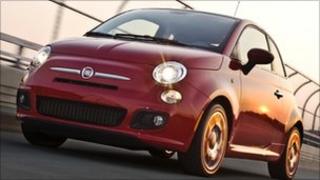 Shareholders in the Italian carmaker Fiat have agreed to spin off its non-car assets and split the business.
The move was approved by a large margin.
John Elkann, Fiat's 34-year-old chairman and the grandson of the founder, Gianni Agnelli, called the vote an "historic" event that "gives birth to two Fiats".
The split is designed to help Fiat integrate with Chrysler but also to form other alliances.
Many major car makers have forged ventures with firms in the fast-growing markets of India and China.
Fiat, which assumed operational control of Chrysler in June 2009, will see its stake in the US car maker rise from 20% to 35% by the end of 2011.
It has an option to take a controlling share in Chrysler once it has paid back its debt to the US government.
Fiat is Italy's largest private employer, with 80,000 Italian employees and 190,000 worldwide.
Production boost
The company's chief executive, Sergio Marchionne, said it was good day for the car division since it will "be able to choose its own destiny without worrying about the consequences" for the rest of the company.
He has predicted the company - whose marques include Ferrari, Lancia, Alfa Romeo and Maserati - will be able to produce six million vehicles by 2014, up from four million today.
In order to boost production, workers will be expected to work longer hours and take shorter breaks.
Fiat's truck-making and agricultural and construction machine makers will be part of a new company called Fiat Industrial.
Each of Fiat's current shareholders will receive one share of Fiat Industrial, with the Agnelli family holding 30.4% of both groups.
Earlier this year, the company returned to profit for the first time since 2008, with a 113m euros ($145m; £95m) profit for the second quarter.