OFT launches investigation into online hotel room sales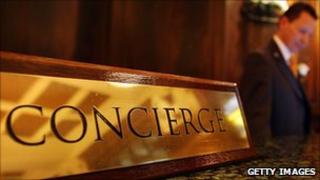 The Office of Fair Trading has launched a formal investigation into alleged price fixing in the online sale of hotel rooms.
The investigation has been triggered by a complaint from a discount website called Skoosh.com
It reported that it was being put under pressure to offer rooms at a standard price.
"We were openly discounting and hotels would email, call and threaten legal action," Skoosh told the BBC.
"Either we'd have to raise prices or take the hotels off our list," said Dorian Harris from Skoosh.
'Cheapest prices'
The sale of hotel rooms over the internet has become a huge business, dominated by the hotels themselves and by global websites which sell the rooms on commission.
Within the travel business the practice of keeping prices at a pre-set level is talked about openly and is called "rate parity".
The effect is that a customer might look at several websites and see the same prices advertised.
And where there is very little variation in prices, a website can claim, truthfully, that its prices are the "cheapest".
'Confused and misled'
The OFT is looking at suspected breaches of competition law.
It is understood that the investigation will focus on allegations that there could be agreements and concerted practices resulting in fixed or minimum resale prices.
"I'm very excited because it is going to force the industry to look at what it is doing," said Dorian Harris.
He maintains that consumers are left confused and misled.
"We've all got used to the idea that rate parity is accepted," he adds.
Hotels sell some of their rooms direct to the customer, but to keep their occupancy rates as high as possible, they use online booking firms and sell any spare capacity through room wholesalers.
The wholesalers can pass the rooms on to travel agents, or offload them to discount websites such as Skoosh.
If the Office of Fair Trading finds that there have been breaches of the Competition Act, it can impose penalties of up to 10% of a company's turnover.
The British Hospitality Association told the BBC that it had not yet been contacted by the OFT and could not comment.