UK retail sales in surprise fall in August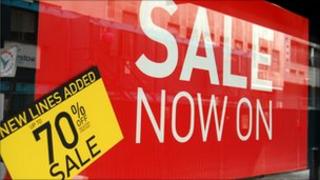 UK retail sales suffered a surprise fall in August, the first drop since January, the Office for National Statistics (ONS) said.
Sales fell 0.5% from July, suggesting that worries about tax rises and budget cuts are starting to hit consumers.
The ONS added to concerns about spending by revising July's growth figures to 0.8% from 1.1% previously.
The data came as three retailers - John Lewis, Kesa and Kingfisher - said High Street conditions could worsen.
Non-food stores were the worst hit in August, with sales down 0.7%, driven largely by household goods stores.
Food stores saw a decline of 0.5%, according to the ONS.
Three-month data from the ONS showed a rise of 1.4% on the previous quarter.
Vicky Redwood, at Capital Economics said: "August's fall in retail sales could be the first sign that the surprising resilience of consumer spending recently could be coming to an end."
But she warned against reading too much into one month's figures.
However, many analysts believe the government's austerity drive, worries over job prospects, and January's planned VAT hike to 20%, are making consumers more cautious.
Retailer John Lewis on Thursday reported strong profits and sales growth, but said UK retailing as a whole faced a difficult time ahead.
In the six months to 31 July, John Lewis made profits of £110.5m on sales which rose 12.4% to £3.8bn.
Online grocery sales rose 54%, while growth at johnlewis.com topped 36%.
Retail warnings
But Charlie Mayfield, chief executive, warned of "economic headwinds" and said that "for the remainder of this year and into 2011, we anticipate more challenging trading conditions".
At Kingfisher, Europe's largest DIY retailer, its rise in profits was primarily due to cost-cutting and other efficiencies.
The owner of the B&Q and Castorama chains saw interim pre-tax profits rise 21.9% to £351m on sales down 1% to £5.45bn.
But sales were especially weak in the UK, and the consumer spending outlook would remain fragile, said chief executive Ian Cheshire.
At Kesa, which owns the Comet electrical goods chain in the UK, sales rose 4.3% in the three months to 31 July.
The firm said it was lifted by sales of televisions ahead of the World Cup football tournament.
The rest of the year is looking more difficult, however, it said, with chief executive Thierry Falque-Pierrotin joining fellow retailers in giving a cautious outlook.
"After a positive first quarter we still anticipate that our markets will remain challenging for the remainder of this financial year," he said.