OFT price-fix probe into leading vehicle makers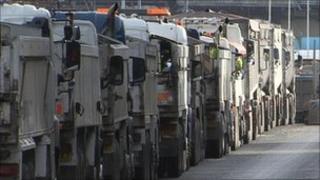 A number of Europe's vehicle makers are at the centre of a price-fixing inquiry by the UK's Office of Fair Trading.
The OFT confirmed it had launched both criminal and civil investigations into suspected price-fixing by major lorry manufacturers in the UK.
The companies include Mercedes-Benz, Scania, MAN, Iveco, Renault Trucks and Volvo Trucks.
The OFT said it was looking into suspected cartel activity and investigations were at an early stage.
Arrest made
The investigations are being carried out under both the Enterprise Act 2002 and the Competition Act 1998.‪
Proven price-fixing carries big fines for companies and criminal prosecutions against executives. The regulator has the power to impose financial penalties of up to 10% of a firm's revenue.
The OFT told the BBC it has visited the UK offices of Daimler's Mercedes-Benz as part of a broad-ranging investigation into the pricing of trucks. One person was arrested, but later released on bail.
It said in a statement it "will not be in a position to conclude whether it considers the law has been infringed until it has completed its investigations and assessed the available evidence".
Several companies investigated
A spokesperson for Mercedes-Benz confirmed that the OFT had carried out an on-site investigation and said it was "fully co-operating with the investigation, which may take many months to complete".
Mercedes has offices at Tongwell, near Milton Keynes.
The German company MAN Group, which makes the TGX range of trucks, told the BBC it was "fully co-operating" with the investigation.
Scania of Sweden said it had received a letter from the OFT requesting documents related to the investigation, adding that it would co-operate.
Volvo Group has confirmed that the UK businesses of two subsidiaries, Volvo Trucks and Renault Trucks, are also under investigation. It said it had no further comment.
Iveco, which is owned by Italy's Fiat, said it was aware of the OFT probe and would co-operate.