BP chief Tony Hayward to face MPs on Gulf oil spill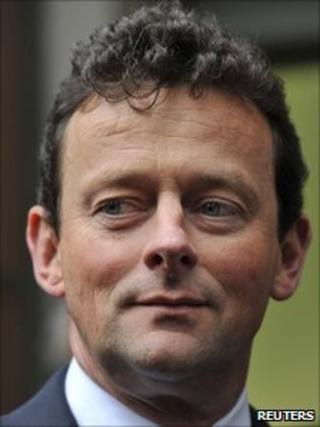 BP's departing boss Tony Hayward will face questions from MPs later about the Gulf of Mexico oil spill.
The Commons energy committee will consider whether UK offshore oil safety rules need to be changed as a result.
When the BP chief executive last spoke about the disaster, he was pilloried by a US Congressional committee for failing to answer its questions.
An explosion on a rig off Louisiana in April killed 11 workers and triggered the worst oil spill in US history.
BBC business correspondent Nils Blythe says the savage criticism heaped on Mr Hayward at the US hearing in June made his position hard to maintain.
Since then the leaking oil well has been capped, Mr Hayward's departure has been announced and BP has published its own detailed account of what went wrong.
The committee will probe Mr Hayward and other senior BP executives on the causes of the disaster to see if there are lessons for the UK.
Our correspondent says some new safety measures may be introduced but it is unlikely the UK will follow the US and impose a temporary ban on new deep-water drilling.
'Safety lapses'
Tim Yeo, chairman of the energy and climate change committee, has warned his colleagues against using Mr Hayward's appearance for "point scoring" rather than serious inquiry.
The chief executive will be joined at the hearing by BP's group head of safety and operations, Mark Bly.
Mr Hayward will step down next month to be replaced by the man in charge of the Gulf clean-up operation, BP managing director Bob Dudley.
Wednesday's questioning comes amid newspaper reports of safety lapses by BP in the North Sea.
The Financial Times says offshore inspection records show BP did not comply with rules about regular training for offshore operators on how to respond to an oil spill.
The oil giant responded saying this was a "valid issue" and that a small number of staff had not undergone refresher training - though this had now been rectified and that it was now "fully compliant with this part of the regulations".
Inspectors from the Department of Energy and Climate Change (DECC) also cited BP for failing to conduct oil spill exercises adequately, the paper adds.
However BP said that it regularly tested its oil spill response plans - both onshore and offshore - and that after clarifying the DECC comments, it was confident it had met the requirements.