F1 designer Gordon Murray unveils lightweight city car
By Jorn Madslien
Business reporter, BBC News, Shalford, Surrey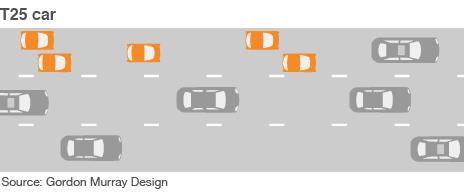 Imagine a car so narrow that two can drive next to each other in one lane; a car so small and short that three can park in one parking space.
Now imagine that the car is built in a shed from glass fibre, recycled plastic bottles and steel tubes, using just a fifth of the material required to build a conventional car.
Such a vehicle would have the potential to prevent gridlock on the world's roads as the number of cars quadruples to 2.5 billion by 2020.
It could also help hundreds of millions of people achieve their dream of owning a car, without depleting scarce resources such as water, energy or steel.
Well, that car has been made.
It seats three, weighs just 575kg, has a top speed of almost 100mph and is expected to cost about £6,000 ($9,000).
The man behind the project is Professor Gordon Murray, long hailed by speed-loving petrolheads as an automotive hero.
During the 70s and early 80s, Prof Murray earned his spurs as a Formula 1 racing car designer, churning out cars that won a string of Grand Prix races and World Championships for Bernie Ecclestone's Brabham.
Next he joined McLaren where he repeated the exercise, producing the Formula 1 car that earned Ayrton Senna his first championship, before penning two legendary road cars: The F1, which held the title as the world's fastest road car for years, and the gull-winged Mercedes SLR McLaren.
But six years ago, Prof Murray stepped off the Formula 1 merry-go-round to pursue a dream - one that he hopes could change forever the way cars are being built.
"I had made enough racing cars and sports cars by then," he says.
"I'm the sort of person who needs a new challenge all the time. I like to take something and disrupt it."
The embodiment of Prof Murray's dream is tucked away in a modest brick building on an industrial site in Surrey.
Here, Prof Murray's team - the same one that he worked with at McLaren - has built a tiny city car - the T.25.
"Over a 15-year period at McLaren, that team became probably the most powerful roadcar team on the planet, and now I've got them all here," he grins.
The T.25 copies the F1 supercar's three-seat interior design, with the driver in the middle and the passengers behind.
And like the F1, the citycar is built using composite materials - only cheaper ones.
The body panels and the monocoque, or base, of the car are reinforced with glass, which costs a fraction of carbon, Prof Murray says.
"Some of the fibres are random, some are woven and some are unidirectional, and that's Formula 1 thinking," he explains.
It all sits on a flimsy steel tube frame that Prof Murray acknowledges "is nowhere near strong enough on its own".
But once the monocoque is glued into the frame, in a process similar to how a windscreen is glued into a car body, it becomes "as sturdy and safe as a conventional car".
The real clue to why Prof Murray feels his invention can change the way cars are built can be found in his workshop, which is no larger than a filling station forecourt.
Here, some of his 30-strong staff are secretly developing a number of different vehicles based on the T.25 manufacturing principles.
"A five-seater, an eight-seater, a bus, or a two-seater," Prof Murray says, insisting anything is possible. "We are very flexible."
For although the T.25 is a groundbreaking car in its own right - one that might well enter mass production soon - its main aim is to show the world what the team can do.
"This is the confusion, I think, with the outside world," he says.
"I'm known as a designer, my team forms an engineering company, but actually our core business is intellectual property."
Prof Murray has come up with a way of producing cars that does away with the most polluting parts used in conventional factories - such as large stamping presses to make steel body parts, welding robots or paint shops.
"We don't need any of that," he says.
"We dig very little steel out of the ground. We use a tiny bit - about 35 euros ($45; £29) worth per car - of low energy mild steel, which is a very low energy process. It's about 60kg of steel in a T.25. That's it."
The manufacturing method, called iStream, is incredibly flexible.
Modifying the size of the frame or the shape and colour of the body panels can be done simply by rewriting the software, so on the same production line you can have "any body you like, on the same day", he explains.
And by simply changing the shape of the monocoque, a manufacturer can slot in pretty much any engine, whether a conventional one using petrol or diesel or an electric motor powered by batteries or hydrogen fuel cells.
Using fewer and cheaper parts to build cars provides manufacturers with tremendous cost savings, but perhaps more importantly it reduces investment risk as less money is required upfront to get a project started, according to Prof Murray.
"I love efficiencies in design, but I love efficiencies in business even more," he says.
"The actual factory that builds an iStream car - no matter what shape it is, no matter what size it is - is about 20% of the capital investment and 20% of the size of a conventional car manufacturing plant - and about half the energy."
Such arguments are slowly winning over both conventional carmakers and companies that have never sold cars before, so Prof Murray is hoping a number of them will soon be manufacturing cars using his team's know-how.
"What we want to do is to sell as many iStream licences to as many people for as many different cars as possible, all around the world," Prof Murray says, hoping to kick-start an automotive revolution.
"It's not a small step forward, it's a massive step," he says.
"We've really ripped up the rule book and thrown it out of the window."
Related Internet Links
The BBC is not responsible for the content of external sites.