Norway and Russia 'open up for business' in the Barents sea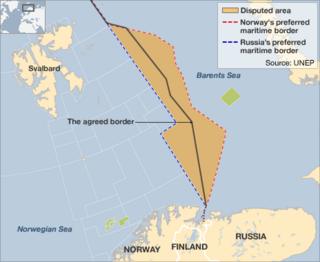 Russia and Norway have signed an Arctic border agreement, ending a 40-year dispute over an area in the Barents Sea that contains potentially huge oil and gas reserves.
The two countries have decided to divide a 175,000 square kilometres (67,000 sq miles) disputed area, half the size of Germany, to the north off their coastlines.
Within the area, a 67,100 sq km area known as the "loophole" has been a source of conflict between the two nations because of unregulated fishing, and some experts think the agreement should help resolve such issues too.
Access to offshore oil and gas reserves has been central to the dispute. Now, the agreement could help Norway maintain its oil and gas production levels in the face of dwindling reserves in the Norwegian Sea, while also giving Russia an opportunity to expand its knowledge of offshore project technology.
"Having an agreement in place means we can open up for business in this area," Norwegian Prime Minister Jens Stoltenberg told the broadcaster NRK earlier this month.
But a number of factors could complicate things, from political considerations to the pace of climate change.
Weaker demand
Norway and Russia are among the northern nations eager to exploit Arctic resources, which are becoming more accessible due to melting ice.
There are about 7.6bn so-called "tonnes of equivalent fuel" in the Barents Sea alone, with much more to the east in the Kara Sea and the Laptev Sea, according to Russia's natural resources ministry.
That equates to 39bn barrels of oil or 6.6 trillion cubic metres of gas, though some industry observers say this is too optimistic, while others insist the reserves could be at least twice as large.
Either way, getting to the oil and gas will be both difficult and expensive.
And with global gas prices having fallen sharply during the last couple of years, pushed lower by new discoveries of non-conventional gas supplies such as shale gas in the US and elsewhere in the world, it is not clear when or how quickly it would be profitable to push ahead with exploration and extraction.
A few years ago there was much excitement about a 1,400 sq km field believed to contain 3.2 trillion cubic metres of gas, in reservoirs 2km below the seabed - itself at a depth of 350m.
But last year, Russia delayed extraction from the huge Shtokman gas field project, where France's Total and Norway's Statoil are working with Russian monopoly Gazprom.
Long-term projects
Getting the cost-benefit analysis right is crucial in the Arctic, explains Jonathan Stern, the director of gas research at the Oxford Institute for Energy Studies, as it could be disastrous to spend too much if those buying the gas and oil are unwilling to pay enough to cover the costs.
The risks in the Barents Sea will remain massive until global gas prices recover, agrees Valery Nesterov, an oil and gas analyst at Troika Dialog.
But balanced against such risks are fears of missing out on future opportunities, so energy companies from around the world will still be keen to get involved in Arctic work, he insists.
Projects in the region run for years before they start producing, so energy prices might have recovered by the time the gas begins to flow, he reasons.
Looking for oil
Bjorn Brunstad of Nordic economic consultancy Econ Poyry believes that Norway is in a hurry to extract gas and oil from below the Barents Sea.
In Norway, oil production peaked some nine years ago and has been going down ever since, while gas production has been stable for several years after some years of growth, he says.
Indeed, Norway's North Sea offshore oil fields have been drying up, so there is a great appetite for new extractable reserves.
"Norway will be very interested to see how much oil is there [in the Barents Sea]," says Mr Brunstad.
Russia, on the other hand, "has the luxury of time", Mr Brunstad explains, as its Siberian oil and gas reserves should keep it going for the foreseeable future.
Extensive offshore exploration in the Barents Sea has not been conducted, in part because of the long-running border dispute.
Mr Stern believes that it could take some five years to "know for sure" how big the reserves are.
Cooperation
But not everybody is happy with the Barents Sea becoming an oil and gas exploitation area.
Fishermen, ecologists and even some members of the Norwegian coalition government have accused Prime Minister Stoltenberg and his Labour Party of paying much more attention to increasing oil and gas production than to issues such as the environmental risks of oil exploration and transportation, or the problem of rising global temperatures.
Some also fear that Russia might show much less consideration for the Arctic's fragile environment than needed, which has been the case with some other energy and mineral extraction projects on land.
But Mr Nesterov believes that this time Russia could use Norway's huge expertise, especially as it does not have to hurry, thanks to having enough inland resources to satisfy demand for 15-20 years.
"The Arctic is a case where you need to 'look before you leap'," he says.
Russia is seen as being interested in developing its Barents Sea projects together with foreign partners, as it cannot do it on its own because it lacks the required offshore technology experience.
Mr Brunstad says that the question for Russia is to find the balance between its desire to extract the oil and gas quickly and its reluctance to give up strategic control and ownership in the long run.
Some signals - participation of Total and Statoil in the Shtokman project and the border treaty with Norway - "look like some movement towards co-operation and trust", Mr Brunstad says.
"Trust is the number one currency."