Hidden hunger: victims of a failed millennium promise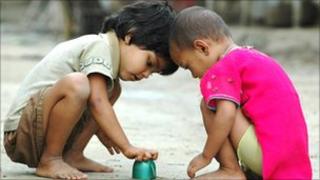 Two little girls playing in the mud in a Dhaka shanty town are unaware of the Millennium Development Goals that were launched before they were born in order to help millions of children like them.
They belong to the most vulnerable members of society - the hungry and the poor, and they live in a world hidden from the teeming population of the Bangladesh capital.
Some progress has been made on the goals, agreed by governments around the world in September 2000, but many of the targets are way behind schedule.
A special review summit on the goals will convene in New York on 20 September.
Urban slum
With just five years left to achieve the aims, the summit is an opportunity to re-energise the global effort and agree on an action plan to accelerate progress towards meeting the goals in time.
But the outcome of the session is unlikely to make any difference to the children playing in shacks constructed alongside railway tracks behind the sprawling Kawrun Bazar in the heart of the city.
The government periodically bulldozes the shacks, but people, many of whom have lost their homes and livelihoods, flock back in the hope that the men can find work in the adjacent business district.
A fortunate few manage to work for a few days each month, earning a dollar a day to feed their families.
Window of opportunity
Parents swoop up their children every time a train approaches, just a metre away from the shacks that have become the only home they know. After it has passed, they return to play on the tracks.
To an untrained eye, they look as happy and healthy as any child you will see in Europe or the US, but their laughter, and the smiles on their faces belie the reality of their situation.
"The kids that you see here are suffering from two types of malnutrition," says John Aylieff, the country director for the United Nations World Food Programme (UNWFP).
"They are underweight for their age, like eight million other children in Bangladesh."
Many are also suffering from a chronic lack of vitamins and minerals.
"That has a marked effect on the development of their bodies and their brains," he says, "particularly when those children are under age two."
There is a window of opportunity that ranges from conception to 24 months - what Mr Aylieff calls the 1,000 day window of opportunity.
"That is the critical age for the brain and body's development for the rest of its life and if you don't get proper nutrition in that period, then it is a life sentence," he says.
"You can never recover, no matter how much nutritious food or vitamins or minerals you take in later life."
Tighter budgets
Bangladesh has made good progress towards the Millennium Development Goals, but there has been a levelling out over recent years.
The target of halving the proportion of people who suffer from hunger is no longer on track.
The country has been beset by a number of natural disasters - since 2007 there have been heavy floods and two cyclones.
Bangladesh also has a growing population, which places an increasing strain on its resources.
"We try to get special foods fortified with vitamins and minerals into the bellies of children under the age of two," says Mr Aylieff.
"More than a billion people in the world are hungry today and the World Food Programme is only able to reach 100 million globally per year."
The financial crisis of the past few years has made Mr Aylieff's job far more difficult.
"We receive money from donor governments, but we are increasingly forging partnerships, especially with the private sector," he says.
Cultivating consumers
One company that has a partnership with the World Food Programme has its headquarters in the leafy town of Heerlen, not far from Maastricht in the Netherlands.
"We are active, not only in Bangladesh, but also in Kenya and Zambia," says Dr Oswaldo da Costa e Silva at the life science firm DSM.
"These partnerships give us the chance to target the neediest of the needy, but these people will also develop and become consumers in a more productive country," he reasons.
"It is a very holistic way of looking at why we are working with the World Food Programme.
"Our shareholders are interested in us having sustainable businesses and we can only do so if we develop a population.
"Two-thirds of the world's population, some four billion people, are at the base of the pyramid and half of them are suffering from malnutrition, so we are doing this not only for the benefit of our company, but also supporting the growth of that population," he asserts.
By helping people lead healthier lives, getting jobs and having more disposable income, he hopes they will also one day be buying DSM products.
"We are not only working in the area of life science, biology, pharmaceuticals and vitamins, we also work in the area of materials such as plastics," he says.
Citing India, he says there are a lot of people who can now afford cars, so his company can profit there by providing materials with specific functions, to be used in the manufacture of Tata Motors' Nano car.
Feeding programmes
Meanwhile, after a successful tender with the World Food Programme, his company supplies the vitamins, minerals and high quality protein, which is added to biscuits that are handed out to children at selected schools.
The biscuits are distributed by Sight and Life, a non-profit humanitarian initiative of DSM founded in 1986.
Apart from giving the children a nutritious meal at the start of the day, it also acts as an incentive for them to attend school. This is particularly the case for children from poor families, because it is one less portion of food they have to prepare at home.
Dr Klaus Kraemer, who heads Sight and Life, says research has shown that children starting the day with a quality meal makes them alert and improves their cognition.
As a result, they obtain better marks at the end of their schooling and that gives them greater opportunities to find work.
He also explains why nutrients such as vitamin A are extremely important, to facilitate the function of a child's immune system so they can avert diseases such as measles or diarrhoea.
"Programmes are running in several countries to ensure children have high doses of vitamin A twice a year to avoid unnecessary mortality," he says.
There are also feeding programmes for pregnant women, who are taught the importance of giving children a nutritious diet with additional vitamins and minerals.
A proper diet is crucial to achieve many of the Millennium Goals and the mothers and children who are part of the World Food Programme are but a fortunate few.
Apart from the obvious humanitarian reasons, governments too might come to realise that a healthier world population would create a broader consumer base for their goods and services.
That should offer an additional incentive for the those attending the Millennium Development Goals summit in New York to strive harder to achieve their aims.