Arunma Oteh says 'finance will vary Nigeria's economy'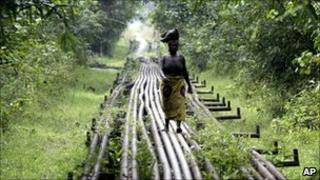 Nigeria's chief financial regulator, Arunma Oteh says the country's capital markets will be key to diversifying its economy away from oil.
Ms Oteh told the BBC she believes the financial markets will help "build an economy that works for the ordinary citizen of Nigeria".
As Nigeria celebrates its 50 years of independence, its economic development will come into focus.
Around 80% of Nigeria's total revenues come from oil exports.
An over-dependence on its oil industry has proved to be the country's Achilles heel.
More to do
Arunma Oteh told the BBC World Service's World Business News: "Despite the efforts of several governments to try and diversify our economy beyond its dependence on oil and gas there is still so much more that we can do.
"We believe that the capital market is clearly an enabler for diversifying the economy."
However, just like the country's oil and gas sector the financial industry has also been plagued with allegations of corruption and mismanagement.
Since becoming the director-general of Nigeria's financial watchdog, the Securities and Exchange Commission, she has said she expects to charge 200 individuals following alleged instances of fraud, price fixing and insider trading.
In August she also removed the two top executives on Nigeria's stock exchange following allegations of poor governance.
Vibrant market
As well as uprooting corruption from the financial services, Arunma Oteh told the BBC that it was important to look at the industry's structure.
"We've had a market over the last 50 years that has been predominantly equities driven, we understand the value of bonds for companies so that they can have an alternative to equities.
"We need to build a strong foundation for a vibrant fixed income market," Arunma Oteh said.
Nigeria's stockmarket has grown to become the second largest in sub-Saharan Africa however, it is still about 15 times smaller than South Africa's, the continent's largest.
The regulator says she sees the Johannesburg stock exchange as an example she hopes the Nigerian stock exchange will be able to follow.