Mortgage lending 'remains tight' for first-time buyers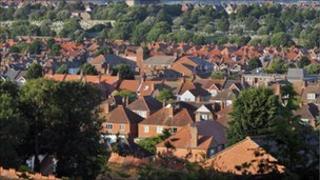 First-time buyers' share of the mortgage market fell to its lowest level for three years in July, according to new figures.
The proportion of new mortgages taken by first-time buyers fell to 34% of all loans granted to home buyers, the Council of Mortgage Lenders (CML) said.
Although they had to put down an average deposit of 24%, low interest rates have helped affordability.
In general, lending on home loans continued to be squeezed.
This was despite a small rise in new lending in July.
Seasonal
The number of mortgages advanced to house buyers increased to 56,000 in July, up 7% on the previous month, the CML said.
This was also 6% up on the same month a year ago.
But the group said that although there had been a seasonal uplift, the market remained "very weak" with loan criteria having tightened.
"Lending criteria remain tight, underpinned by caution on the part of both borrowers and lenders in the light of continuing economic uncertainty," said CML economist Paul Samter.
First-time buyers
When asked about the chances of getting a mortgage at the start of 2010, many potential first-time buyers said they were having to get financial help from their parents to afford a deposit.
One wannabe buyer said he was applying for game shows in a bid to win the money for a deposit.
The picture has changed little for them since.
The average deposit of 24% in July was much the same as the average since the start of 2009.
There was a slight dip in demands - with the average deposit at 21% in April and May this year - but later in the summer "loan criteria have now tightened a little", the CML said.
Low interest rates mean that mortgage interest payments account for a "modest" 13.2% share of average income - the lowest since early 2004, the group's figures show.
But this has not translated to the proportion of new loans going to first-time buyers.
Their 34% share of the mortgage market was down from 38% in June and the smallest percentage since the middle of 2007, just before the onset of the credit crunch and the international banking crisis.