Deutsche Bank says it is to raise 10bn euros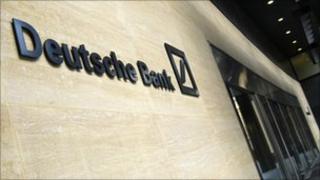 Deutsche Bank has said it will raise 9.8bn euros (£8.1bn, $12.4bn) in new equity, as it seeks fresh capital to take over retail bank Postbank.
Germany's biggest bank announced the rights issue and said a Postbank purchase would enable it to expand its "strong position in our home market".
The money would also help boost its capital reserves, something demanded of banks under new regulations.
Deutsche Bank currently owns a third of the equity in Postbank.
'Leading position'
"Through this capital increase, Deutsche Bank intends to secure the equity capital required for a planned consolidation of Postbank," said Deutsche Bank chief executive Josef Ackermann in a statement.
"As a result, we can expand our strong position in our home market, take a leading position in the European retail banking business and significantly enhance Deutsche Bank's revenue mix," he added.
"Furthermore, with this capital increase we are strengthening the bank's equity capital in light of expected regulatory changes."
Other banks may now follow Deutsche Bank's lead in trying to raise new funds.
The move is Germany's largest banking rights issue but is below the £13.5bn recently raised by Lloyds, HSBC raised by £12.5bn and £12bn raised by RBS.
Banking worries
On Friday shares in Deutsche Bank fell on reports that it was about to raise new equity.
Market worries about the financial health of European banks and of certain European governments have heightened again over the past week.
Meanwhile doubts are persisting about the reliability of the stress tests to European banks carried out by regulators in July.
The tests were intended to discover how much losses the biggest banks would suffer if economic and financial conditions deteriorate again, so that regulators could tell the banks how much more capital they needed to raise.