IMF releases new 2.5bn euros loan for Greece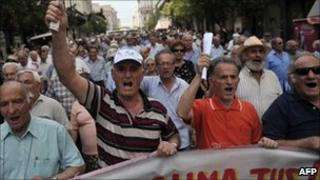 The International Monetary Fund (IMF) has formally approved the second installment of a rescue loan to Greece.
The IMF will provide Greece with 2.5bn euros ($3.2bn; £2.1bn), its share of a fresh 9bn loan installment, with the rest to come from the EU.
Greece has already received 20bn euros of a 110bn euros international rescue loan, agreed earlier this year as its economy went into meltdown.
Data this week showed Greece's economy shrank 1.8% in the second quarter.
The contraction was worse than expected and compares with the 0.8% shrinkage in the January-to-March period.
Greece's national statistics office said that private consumption dropped 4.2% year-on-year, against a rise of 1.5% in the previous quarter.
The figures underline Greece's struggle against recession.
'Ahead of schedule'
EU and IMF inspectors are due in Athens next week to review the progress of Greek austerity measures.
Announcing the loan the IMF said: "The Greek authorities have made a strong start with their economic program, and their determined implementation has started to deliver results.
"All quantitative performance criteria for end-June were met, and major structural reforms are ahead of schedule."
However the austerity measures that Greece has implemented to tackle its massive debt burden has led to widespread protests and strikes.