7-Eleven makes bid for Casey's General Stores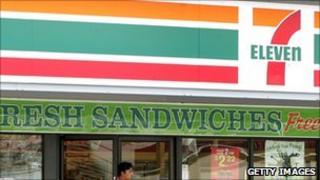 7-Eleven, the largest convenience store chain in the US, has made a $2bn offer to buy smaller rival Casey's.
The offer, of $40 a share, could spark a bidding war as Canadian retailer, Alimentation Couche-Tard, has previously made two bids for Casey's.
7-Eleven operates more than 7,100 stores in the US and Canada, while Iowa-based Casey's has 1,531 stores
7-Eleven is owned by Japanese firm Seven & I which sees its future growth coming from the US.
A takeover of Casey's is attractive to Seven & I which has seen its profits fall in Japan due to low consumer spending and a strong yen.
In a statement, Casey's said that it believed the company's value exceeded $40 per share.
But it added that it was willing to explore whether a deal could be done that reflects "the true value of Casey's".
Casey's has previously refused to enter discussions with Alimentation Couche-Tard following its offers, the latest at $38.50.
Casey's shares have been trading above the level offered by the two bidders.
At the close of trading on Thursday they were up 1.95% at $43.95. Its shares have risen more than 40% over the past year following positive results and the takeover bids.
Investors are now waiting to see whether Couche-Tard makes a higher offer. Its shares fell 0.6% in Toronto on Thursday following rumours of 7-Eleven's bid.