Global economy slowing but recession unlikely says OECD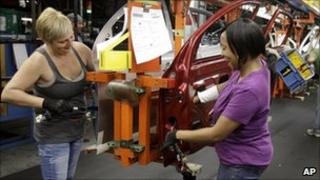 The global economic recovery is slowing faster than forecast, but a return to recession is unlikely, a leading global economic group has said.
The Organisation for Economic Co-operation and Development (OECD) said the slowdown had been more "pronounced than anticipated".
As a result, it lowered its growth forecast for 2010 for the G7 leading economies to 1.5%, down from 1.75%.
It added the economic outlook was characterised by "great uncertainty".
"The uncertainty is caused by a combination of factors, but it is unlikely that we are heading into another downturn," said the OECD's chief economist Pier Carlo Padoan.
US growth
The group said consumer spending could remain weak, while concerns about high levels of government debt were also serving to constrain growth.
Against this, the group reported more stable financial conditions and strong corporate profits.
It forecast growth in the US at an annualised rate of 2% between August and October, then 1.2% in the final three months of the year.
In the second quarter of this year, the US economy grew at an annualised pace of 1.6%.
The group also forecast a sharp slowdown in some leading European economies, with Germany, France and Italy together growing at an annualised rate of 0.4% in the third quarter and 0.6% in the fourth.
This would represent a sharp turnaround from the second quarter, when some leading European economies grew at a faster pace than the US.
The UK, however, is set for stronger growth than the US, according to OECD forecasts. Its economy could grow by 2.7% between August and October, and by 1.5% in the final quarter, the group said.