Fat cat pensions worth millions, says TUC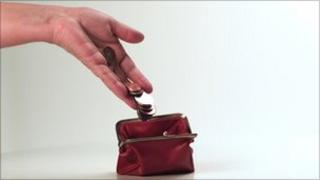 Directors of big companies have been accused of continuing to accrue hugely generous pensions while cutting the pension entitlements of their workers.
The accusation comes in the TUC's eighth annual Pensions Watch survey.
It says more than half of top directors are still in final salary schemes, which are far more generous than those for their staff.
The average annual pension now accrued by a top director is worth £227,726 a year.
"Employers often tell us that decent staff pension schemes are no longer affordable," said the TUC's general secretary, Brendan Barber.
"Directors' representatives are in the vanguard of those attacking public sector pensions.
"Yet greed is still good in the nation's top boardrooms, where directors continue to reward themselves with seven-figure pension pots," he said.
Better deals
The TUC looked at the pension arrangements of 329 directors at 102 top firms.
It found that:
The average director's pension pot (transfer value) has risen by £400,000 in the past year to £3.8m
The average accrued pension of nearly £228,000 is worth 26 times the average occupational pension of £8,736
54% of top directors are still in final salary schemes
Most directors' pensions schemes build up pensions at least twice as fast as those of their staff - usually at a rate of 1/30th a year compared to 1/60th or 1/80th for ordinary staff
Directors in defined contribution schemes received average contributions from their employers of £134,760 a year, worth 19% of their salaries - three times the average contribution rate made for employees.
The National Association of Pension Funds (NAPF) said it was logical that higher paid staff would accrue bigger pensions.
But it supported the TUC's demand for much greater disclosure of directors' pension arrangements.
"Special arrangements like lower retirement ages and higher contribution rates need to be explained," Joanne Segars, the NAPF's chief executive.
"It is also worrying that directors' pensions are not usually linked to performance.
"This could mean bosses are rewarded in their retirement despite failure in the job," she said.