UK's trade deficit in goods hits new record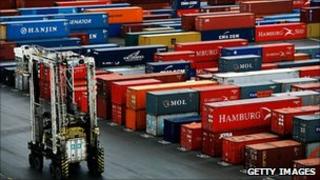 The UK's goods trade deficit widened to a record high in July after imports rose sharply and exports fell from the previous month, figures show.
The total trade deficit - which includes services - widened to its highest in almost five years.
The deficit on goods and services rose to £4.9bn, against £3.9bn in June, the Office for National Statistics said.
The goods deficit was £8.7bn, against £7.5bn a month earlier, the biggest deficit since figures began in 1998.
However, trade in services produced a surplus of £3.8bn.
'Dreadful' figures
Analysts are watching to see if the new figures will have an impact on third quarter UK GDP.
"July's dreadful UK trade figures cast further doubt over the ability of the external sector to drive the recovery once the boost from government and consumer spending fades," said Vicky Redwood at Capital Economics.
"Admittedly, some of the deterioration reflects a sharp rise in imports - in turn an indication of the strength of domestic demand. And although exports fell, this reversed only part of June's jump."
However, she added: "A significant turnaround in the trade balance looks unlikely when the improvement in the survey measures of export orders has ground to a halt and the global recovery is showing tentative signs of faltering."
Imports increased by 3.1% on the month in value terms, which was largely driven by an increase in imports of organic chemicals, pharmaceuticals and oil. Exports including chemicals and oil fell by 0.9%.