US overtaken by Sweden in WEF competitiveness survey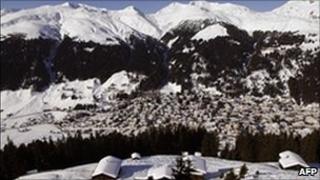 The United States has been overtaken by Sweden and Singapore in the World Economic Forum's (WEF) competitiveness survey for 2010-11.
The change meant that the US slipped two places to fourth in the WEF's latest ranking.
Switzerland, which overtook the US last year, remains the top ranked economy.
Germany rose to fifth, and was the best placed eurozone country. The UK, after falling back in recent years, moved up one place to 12th position.
The WEF says the rankings are calculated from both publicly available data and its survey, which questions more than 13,500 people in 139 countries.
The WEF says the US has lost ground because of what it calls a weakening of its public and private institutions, as well as what it describes as "lingering concerns about the state of its financial markets".
Sweden's second place tops off a clutch of positive rankings for the Nordic countries, with Finland in seventh place, Denmark 10th and Norway 14th.
The WEF report reflects the improving fortunes of the developing world, but shows it still has a long way to go before it matches the developed world for competitiveness.
China moves up two places to 27th, while India (51), Brazil (58) and Russia (63) remain in the same places as last year.
Klaus Schwab, founder and executive chairman of the World Economic Forum, said: "Policy-makers are struggling with ways of managing the present economic challenges while preparing their economies to perform well in a future economic landscape characterized by uncertainty and shifting balances,"