US economic growth decelerating, says Fed's Beige Book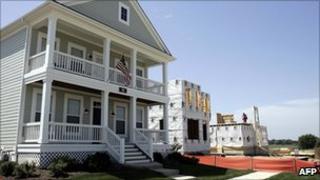 US economic growth "showed widespread signs of deceleration" in the six weeks to the end of August, according to the Federal Reserve's Beige Book.
The book supports recent economic data showing that the recovery is losing momentum.
It did, however, report a slight increase in consumer spending.
The influential Beige Book, compiled eight times a year and used to help set interest rates, is based on a survey of business views from around the US.
The Fed reported "continued growth in the national economic activity during the reporting period of mid-July through the end of August, but with widespread signs of deceleration compared with preceding periods".
The housing market was hit particularly hard during the period.
"Home sales slowed further following an initial drop after the expiration of the homebuyer tax credit at the end of June, prompting a slowdown in construction activity."
The manufacturing sector also saw growth slowing in several districts across the US, the Fed said.
Spending pick-up
The was some good news on consumer spending, however. This measure is watched particularly closely as it accounts for more than two-thirds of the US overall economic output.
"Consumer spending appeared to increase on balance despite continued consumer caution that limited non-essential purchases, while activity in the travel and tourism sector picked up relative to seasonal norms," the Fed said.
The latest figures show that the US economy grew by an annualised 1.6% between April and June, considerably less than many leading European economies.
But jobs data released last week showed private sector companies hired an extra 67,000 people in August, which helped to calm fears that the US economy might be heading for recession again.