Canada lifts interest rates for third time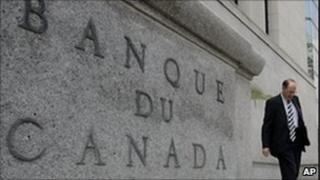 The Bank of Canada has raised interest rates by a quarter-point to 1% in its third rise this year.
Canada became the first of the leading Group of Seven developed nations to move rates higher since the start of the economic crisis when it increased lending rates to 0.5% in June.
The country's economy was less badly hit than other G7 members because it did not have a sub-prime crisis.
But the Bank warned that growth would be held back by a weaker US economy.
It added that further rate rises would need to be carefully considered because of what it called the unusual uncertainty surrounding the outlook.
The bank acknowledged that the economic growth projections in its July Monetary Policy Report were too optimistic.
It blamed the weaker economy in the US, which buys three-quarters of Canadian exports, for the slower pace at home.
The most recent figures on the economy showed it had slowed sharply in the second quarter of the year - to an annualised growth rate of 2%, from 5.8% in the first quarter.
But the bank sounded upbeat on domestic consumer spending and business investment.
Its report said: "Going forward, consumption growth is expected to remain solid and business investment to rise strongly."
The comments were taken to mean it was now more likely rates would rise a fourth time at the Bank of Canada's next meeting in October.
The other members of the G7 are the US, UK, France, Germany, Italy and Japan.