Is Russia a goldmine for foreign professionals?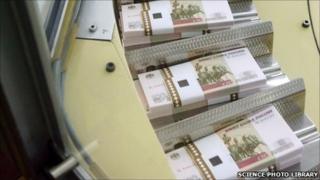 If you are a professional who thinks foreign cultures are made more interesting by the chance to make a quick buck, then Russia might be the country for you.
More than a third of expats in Russia - or 36% - earn more than $250,000 (£162,000) a year, according to the latest Expat Explorer Survey, commissioned by HSBC.
So there is little wonder that more than three quarters of those who move there do so for money and career reasons.
But letting money do all the talking can prove disastrous, according to Marie Brice, an expat life coach.
"Expat's 'failed' transfers - where the expat or family returns from the assignment early - are rarely attributed to not enough money," she says, urging people to consider a broad range of issues before moving overseas.
"Do I have an open mind and can I accept and welcome cultural differences as well as similarities?" she asks.
And what about job opportunities for partners, schools for the children, or safe and comfortable homes? Not to forget the question: what sort of support will my company offer?
Necessary knowledge
Eric Toledano, 36, originally from Spain, has worked in large food and beverages companies. He came to Moscow in 2005 and lived there for several years before recently moving to Japan.
"The factors that I considered at the time [in 2005] were the strong dynamics of the Russian market, the ability to create and to be innovative, which is very limited in large established markets, and the economic proposal, which was also very attractive," says Mr Toledano.
The vast majority of expats, or 82%, earn more here than they did at home, according to The Expat Explorer Survey.
Ekaterina Shiryaeva, from Flex recruitment agency in Moscow, thinks that there are good objective reasons for this.
Managers from other European countries have better professional knowledge and experience, which they are able to implement in Russia, she insists.
"There are no such specialists in Russia, which is why companies are ready to pay to attract such specialists from different countries," she says.
Frank Ebbecke, president of the Ark Scholz & Friends Marketing Communications Group and a German citizen who came to Russia in mid-1990s, points out that the lack of home-grown specialists able to compete with foreigners might have to do with the fact that the Russian market economy is less than two decades old.
Russian economist Mikhail Berger agrees.
"Companies [in Russia] are eager to employ people of the Western business culture, as it is easier for them to negotiate partnership deals, gain access to markets and attract credits from Western banks," he tells the BBC Russian Service.
Big difference
But there is another reason why expats can earn a lot in Russia, Mr Berger observes.
A number of foreign specialists in Russia are overpaid, he believes, simply because some companies see employing expats earning "big money" as fashionable.
Moreover, he adds, some firms pay inflated salaries to their top managers at the expense of lower level employees, who are underpaid.
The difference in pay between the two groups is one of the biggest in the world, says Mr Berger.
Living conditions
Expats are also paid well in Russia because it is expensive to live there.
For years, Moscow, Russia's foreign specialists hub, has been among the world's most expensive cities for expats.
According to the survey, 76% of expats said that food and drinks cost more in Russia than in their home countries.
Renting a flat and paying school fees are also very expensive, Mr Ebbecke says, and as some companies think it is dangerous to drive in Moscow, more money is needed for a car with a chauffeur for their employees.
Even the cost of learning Russian is high, says Mr Ebbecke, pointing out that it is "a difficult and different language".
Mr Berger believes that Europe still sees Russia as a place with difficult living conditions, which justifies higher pay.
But in reality, he says, the quality of life in Moscow and St Petersburg, the two cities where most expats live, is not lower than in other European countries.
But Mario, 39, an American working in Moscow, disagrees. He says he would not have come to work in the Russian capital if his US company had not offered him "a good package".
"The standard of living is lower than that in the US, at least in the big cities, so there had to be something to compensate for that loss," he says.
'Not for everyone'
While many come to Russia mainly to earn good money or gain necessary foreign experience to boost their careers, Joshua, 29, a lawyer, working in the finance industry, says that for him it was primarily a lifestyle choice.
"I wanted to live in a non-English speaking country and experience a new language and culture," he says.
"The fact that I have a great job here is a bonus."
In turn, Mr Toledano says, "I fell in love with Moscow because it is the New York of Europe.
"Nowhere else you feel the energy and the wealth that drives Moscow."
But Mario warns: "Moscow is not for everyone."
"I have had a lot of colleagues that do not last more than a couple of years. This especially applies to those with families.
"Particularly those who do not speak Russian."