Phone card firm Lycatel agrees to make adverts "clear"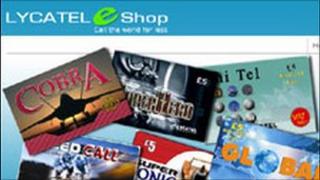 Lycatel, the international phone card company, has agreed to make its charges much clearer in its adverts.
The agreement comes after an investigation by the telecoms regulator Ofcom.
It had looked at complaints that the adverts had hidden some charges and exaggerated the number of minutes that callers could receive.
The regulator said it would also check that other phone card companies were publishing accurate information.
"Ofcom's investigation found that Lycatel's advertisement of its international calling cards potentially breached the Consumer Protection from Unfair Trading Regulations 2008 and the Unfair Terms in Consumer Contracts Regulations 1999," the regulator said.
The phone card company has agreed to change the content of its adverts by the beginning of December this year.
Specifically, they will have to make very clear how many minutes callers will get and how they might be reduced by various fees and charges.
The adverts will also have to state the connection and "end of call" fees, and the maintenance charges, in a way that is "clear, intelligible and unambiguous."
The company was warned that if it did not comply the regulator would go to court to enforce its will.