Greece economy shrinks 1.8% as consumers cut spending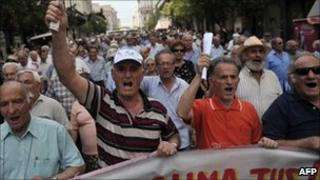 The debt-laden Greek economy shrank 1.8% in the second quarter as households slashed spending.
The contraction was worse than expected and compares with the 0.8% shrinkage in the January-to-March period.
Greece's national statistics office said that private consumption dropped 4.2% year-on-year, against a rise of 1.5% in the previous quarter.
The figures underline Greece's struggle against recession and cast a shadow over European stock markets.
The statistics agency said that gross capital investment tumbled by 18.6% in the second quarter, while exports fell 5%.
Greece is in the grip of a deep economic crisis.
The country has imposed radical austerity measures to balance the books and has been granted 110bn euros ($140bn; £90bn) in emergency aid from the European Union (EU) and International Monetary Fund (IMF).
Debt worries
Platon Monokroussos, economist at EFG Eurobank, said that there would be no let-up for the economy in the short term.
"Economic growth is likely to remain firmly in negative territory in the second half, given tight domestic credit conditions and the government's austerity programme," he said.
Greece's weak economic performance could also led to an increase in the country's cost of borrowing, analysts said.
"The worse-than-expected second-quarter figures are also likely to drive a new increase in Greek government bond yields, which have been rising steadily in recent months," said Diego Iscaro at IHS Global Insight.
"Indeed, the spread between Greek and German 10-year government bonds currently stands above 900 basis points, just below their peak in May."
It was the prohibitively high cost of borrowing that led to the rescue package from the EU and the IMF.
Worries about sovereign debt hit stock markets at the start of trading on Wednesday, with all the leading bourses down and bank shares hardest hit.
Greece was not the only concern, with Hungary's economy barely moved in the second quarter.
The country's gross domestic product in the April-June period was 0.8% up, but below the European Union average growth of 1% for the second quarter.