Dana Petroleum says Korean £18 bid too low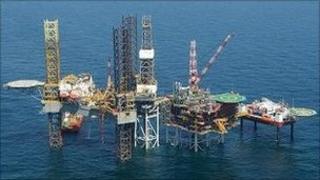 Dana Petroleum has told shareholders the bid from Korea National Oil Corporation (KNOC) is too low, according to an independent valuation.
The valuation, commissioned by Dana, values the company at 2120p a share, compared with KNOC's offer of 1800p which values the business at £1.67bn.
Dana points out that it is worth even more as a result of a takeover it has now announced of oil business PCUK.
It says if the same valuation method is used, it is now worth at least 2270p.
A statement from Dana added that the £240m purchase of PCUK from Suncor could mean it is worth as much as 2465p a share, as the independent experts said the assets were really worth £368m.
KNOC made its offer direct to Aberdeen-based Dana's shareholders last month after it failed to convince the company's management to recommend the bid - something that makes the offer "hostile" in takeover parlance.
Dana's chief executive, Tom Cross, said KNOC had rebuffed attempts to reach a mutually agreeable solution.
He said: "Since the first moment KNOC approached Dana, we have held out the hand of friendship and asked KNOC repeatedly to hold a proper value discussion."
The company's chairman, Colin Goodall, said KNOC's approach to the takeover process proved it knew Dana was worth more than its offer:
"For proof that Dana is worth more than 1800p per share," he said, "look no further than KNOC's extraordinary actions.
"For a national oil company to launch a hostile offer without access to detailed technical information means KNOC must be highly confident the Dana assets must be worth much more than their offer price."
The Korean government gave KNOC a $6.5bn (£4.2bn) war chest this year to help secure supplies for its growing economies.
The company has a target to raise the nation's production capacity to 300,000 barrels per day (bpd) by 2012 from 130,000 bpd in December.
Dana operates mainly in the North Sea, which accounts for 81% of production, although it also has facilities in Egypt and West Africa.