Boeing military cuts jobs amid restructure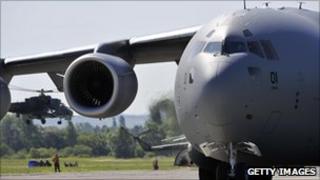 Boeing has announced cuts at its military aircraft division in readiness for future tightening in US government defence spending.
The company said it would cut 10% of executive positions, with "additional reductions across all levels anticipated in the coming months".
The job losses result from the firm's decision to consolidate six divisions into four, starting next month.
The restructure will "reduce complexity and improve efficiency," the firm said.
The reorganisation will also allow Boeing Military Aircraft to "meet domestic and global defence requirements for the next 10 years and beyond," it added.
"It is consistent with initiatives underway throughout the entire Boeing defence business that will allow us to remain competitive and grow."