Obama to back company tax breaks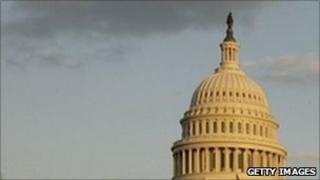 President Barack Obama is to back new company tax breaks in a bid to regain the initiative as mid-term polls loom.
He will lobby Congress - including a blocking minority of Republicans in the Senate - to let companies in the US write off investment costs until 2011.
With unemployment stuck at 10% and the economy appearing to slow sharply, the president's Democratic Party could face big losses at the November elections.
On Monday, Mr Obama also called for $50bn of new infrastructure spending.
Officials said the president would announce the latest proposals during a speech in Cleveland later on Wednesday.
Last week, the President used a speech on the economy to attack the Republicans' "blockade" for holding up a bill aimed at helping small businesses.
The administration said that the new tax plan would save companies about $200bn over two years.
It would also provide an added incentive for businesses to increase investment.
Federal Reserve chairman Ben Bernanke noted in a recent speech the worrying failure of businesses to increase their fixed capital investment, and the crucial role this would play in sustaining the recovery.
Political games
On Friday, the US Labor Department announced that the US economy had lost a further 54,000 jobs, while the unemployment rate rose to 9.6%, from 9.5% in July.
Yet Republicans have set their faces against any further stimulus spending by the federal government, despite the slowing economy.
Some Democrats accuse them of playing games with the economy in the belief that the President will be blamed by the public for the slowdown.
However, many Republicans have said they favour tax cuts - including making all of former President George W Bush's tax cuts permanent.
The latest move may be an attempt by Mr Obama to call the Republicans' bluff over tax cuts ahead of the Congressional elections due in November.
Recent polls give the Republicans a significant lead over the Democrats.
Politics vs markets
"The White House is missing the big picture," said John Boehner, leader of the Republican minority in the House of Representatives.
"None of its plans address the two big problems that are hurting our economy - excessive government spending, and the uncertainty that their policies... are creating for small businesses."
But despite Republican fears about the size of the US government deficit, markets are still willing to lend to the US Treasury at unprecedentedly low interest rates.
The 10-year US government bond currently trades at a rate of around 2.6% per annum.