Bob Diamond's patience pays off as he gets top job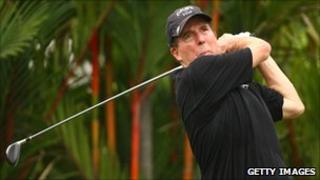 Bob Diamond personifies our schizophrenic attitude to wealth and success.
On the one hand, he is a hugely successful investment banker who built a world-beater, deservedly enjoying the riches that he earned not just for himself, but for other people too.
Then again, he represents all that is wrong about the financial sector's bonus culture, gambling on the stock markets in order to accrue unimaginable rewards.
The Times newspaper, which broke the story that Mr Diamond is taking the helm at Barclays Bank, labelled him "Britain's £100m banker".
That's how much Mr Diamond, 59, is estimated to have amassed during his time running Barclays Capital, the investment banking arm of Barclays.
Mr Diamond, an American and former academic, built Barclays Capital virtually from scratch and few would question his skills to be chief executive of the High Street bank.
Indeed, Mr Diamond narrowly missed out on the job when it was awarded to John Varley in 2004.
Instead of moving to another company, as many executives would have done, Mr Diamond's patience has been rewarded.
'Deal-making' denounced
But in the Age of Austerity, news of his appointment is likely to have caused a sharp intake of breath in government.
MPs have lined up to condemn "casino bankers", with none more critical than Vince Cable, who just happens to be business secretary, and whose job means regular contact with senior executives.
Mr Cable's predecessor in the post, Lord Mandelson, was none too keen on Mr Diamond.
In April, before the general election forced him out of office, he launched a personal attack on Mr Diamond as the "unacceptable face" of banking, saying he made money by "deal-making and shuffling paper around".
Barclays' press office at the time rejected Mr Mandelson's criticism, adding that claims about the size of Mr Diamond's pay packet were "total fiction".
Not that Mr Diamond himself is incapable of giving as good as he gets. Straight-talking, determined and smartly-dressed, he looks and sounds like one imagines a New York banker should be.
But he rejects suggestions that he is some arrogant Wall Street financier, a Master of the Universe.
Asked in an interview two years ago about his supposedly prickly attitude, he said. "It's because they all think I'm a brash American. But I'm not as brash as they say... I'm tired of being a brash American.''
Wall Street star
Bob Diamond grew up in Massachusetts, one of nine children of schoolteacher parents.
He did an MBA at the University of Connecticut's Business School and became a lecturer there.
His career in investment banking began at Morgan Stanley. From there, he went to Credit Suisse First Boston, spending time in the Tokyo office and rising to become vice-chairman.
The married father-of-three joined Barclays in 1996 to run BZW, the small investment banking arm of the bank.
Mr Diamond was one of Wall Street's rising stars and his recruitment by Barclays was seen as a major coup.
He hired scores of new staff at BZW (eventually rebranded Barclays Capital), many of whom were on multi-million-pound contracts.
The division's focus was switched to the trading and issuing of bonds, rather than just equities.
This new fixed-income business snowballed as Mr Diamond took on Wall Street at their own game.
Chelsea fan
A sign of his frustration that Barclays Capital's success is still unrecognised was revealed earlier this year at a news conference, where reporters were only interested in asking questions about his pay package.
Perhaps you've all already decided what story you want to write, he told them. But "I would think as UK reporters you would be immensely proud that Barclays Capital is now the number one investment bank in fixed income not just in Europe, but also in the US".
Known for his love of sport, Mr Diamond has been a season-ticket holder at Chelsea football club for years.
A picture of him handing the Premiership trophy to Chelsea's captain, John Terry, in 2005 is on his office desk.
Mr Diamond also remains a devoted fan of American football and baseball. He can occasionally be found in Hyde Park coaching baseball, though not so much recently.
For the past two years, he has spent most of his time in New York, integrating into Barclays Capital some operations bought from collapsed bank Lehman Brothers.
His new job will bring him back to London, to his home in Kensington, to his family and friends, to his beloved Chelsea - and to a country where attitudes towards rich investment bankers have changed a great deal in the past two years.