Kabul Bank shareholders' assets frozen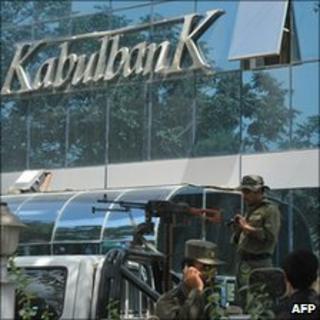 Afghanistan's central bank has frozen the assets of Kabul Bank's key shareholders, including the ex-chairman and chief executive, reports say.
The brother of one of the country's vice presidents is among them, news reports from Reuters have said.
The bank, whose customers include 250,000 government workers, has been in crisis since the two top directors left amid allegations of corruption.
Nervous investors have been queuing to withdraw funds.
Kabul Bank is the largest private bank in the country and armed police have been present at some branches.
As well as the chairman, Sher Khan Farnood and chief executive officer Khalilullah Fruz, who each own 28% of the bank's shares, the assets of several other shareholders and major borrowers have also been blocked.
One of President Hamid Karzai's brothers and the brother of one of his two vice presidents are also major shareholders at Kabul Bank.
Mahmoud Karzai is not thought to be involved in the property freeze because he does not have property registered in his name.
But a spokesman told Reuters that Mohammad Haseen, the brother of First Vice President Mohammad Qasim Fahim, was among them.
The central bank's move follows its promise to back Kabul Bank, which is the country's largest private bank.