BA strike: Unite warns of fresh industrial action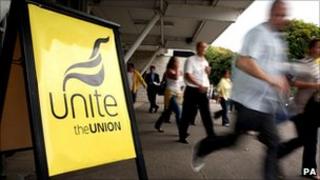 Union leaders have warned that BA faces fresh industrial action unless a negotiated settlement is reached to end the long-running dispute.
Brendan Gold, national officer for Unite, said the union would ballot for action "at the right time" because of issues that remain unresolved.
He made the comments after one thousand cabin crew attended a rally at Kempton Park racecourse on Monday.
BA cabin crew have already staged 22 days of strike action this year.
"The general secretaries have made it clear they see it as the next step, at the right time, to ballot for industrial action because of the issues that still remain at the heart of this dispute," Mr Gold said after the mass meeting of crew.
Many crew wore yellow ribbons as a sign of support for colleagues disciplined by BA during the dispute.
More than 60 members have been suspended and a further 13 sacked, according to the union.
A spokesperson for the union said BA chief Willie Walsh wanted the union "busted and crushed".
'No authority'
Talks between the two sides ended without agreement last month.
Unite is calling for the restoration of travel concessions removed from strikers, and the end of what it claims to be the victimisation of union members.
However, BA said the cabin crew union, Bassa, had been "talking about holding a ballot for the last three months. It doesn't have the authority to call a ballot."
BA said it had concluded disciplinary hearings into 65 cabin crew - 49 had returned to work and 16 had been sacked.