Retail sales boosted by back-to-school clothing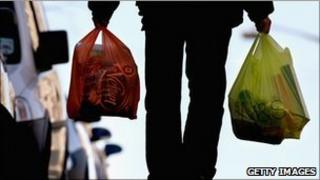 Retail sales rose in August, partly thanks to strong sales of children's clothing ahead of the new school year, a trade body has said.
Like-for-like sales, which strip out the impact of sales from new stores, rose by 1% against a year earlier, the British Retail Consortium (BRC) said.
On a total sales basis, sales rose by 2.8% compared with a year ago.
But the BRC said August sales were "not strong" and benefited from being compared with "poor" sales a year ago.
It added that consumers were wary of buying expensive "big ticket" items due to uncertainty over government spending cuts.
Spending review
"Back-to-to school wear and the onset of autumn helped clothing and shoes produce a small overall improvement in non-food sales," said Stephen Robertson, director general of the BRC.
"[But] with the government about to detail its cuts and a VAT rise in prospect, retailers will be hoping consumer confidence doesn't slip over the next few months."
The government will reveal details of its comprehensive spending review next month, and has already announced that VAT will rise to 20% in January next year.
The BRC also highlighted a drop in furniture and flooring sales in August, which it attributed to "renewed weakness" in the housing market.
House prices have risen by about 10% since spring last year, but prices in the past few months have stagnated, according to some house price surveys.
The body also said that non-store sales - those arranged by internet, phone and mail-order - rose by 17.8% from a year earlier, "but this was against an exceptionally weak 8% gain in August 2009".