Russian President signals end to grain export ban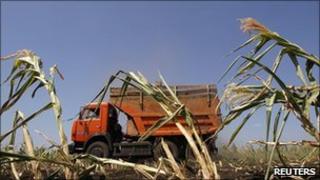 Russia's grain export ban will be lifted as soon as it is clear how much has been harvested, Russian President Dmitry Medvedev has said.
It contradicts Russian Prime Minister Vladimir Putin, who said last week that the ban could be lifted only after next year's harvest has been reaped.
Usually, Russia's harvest results become clear in October.
Russia, one of the world's biggest producers of wheat, barley and rye, has been hit hard by drought and wildfires.
The subsequent export ban caused global wheat prices to rise sharply on the international commodity markets.
In 2009, Russia exported a quarter of its annual grain output of 97 million tonnes.
This year's crop could be as low as 60 million tonnes, but Russia needs almost 80 million just to cover domestic consumption.
'Predictable conditions'
When the ban was introduced last month, officials said it would run from 15 August to 31 December.
Last week Mr Putin said that it would be extended to "provide stability and predictable conditions for all market participants".
But Mr Medvedev said on Monday: "The grain embargo is a forced temporary measure."
"As soon as it is clear how much we have harvested, all sorts of embargoes will be lifted, you do not need to doubt that."
There was little reaction on the European commodity markets to the news. The leading Chicago exchange was closed for the Labor Day holiday in the US.