Afghan central bank to back struggling Kabul Bank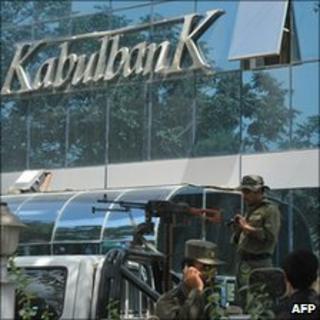 Afghanistan's central bank has said it is prepared to offer loans to the troubled Kabul Bank.
Customers have been queuing to withdraw their money at branches of the country's largest private bank for several days as fears have grown about its stability.
Kabul Bank has been the subject of reports alleging large-scale corruption by executives.
Armed police were stationed at branches on Sunday to keep order.
Emal Ashore, a spokesman for the Afghanistan central bank, said it was "ready to provide loans".
The AFP news agency also quoted him as saying that the central bank had not asked the government for a loan.
"I dismiss that the Central Bank has requested a $200m loan [from the government] to the Kabul Bank. But we are ready as per the laws to provide loans to the Kabul Bank, if it requests," Mr Ashore told AFP.
Afghanistan's finance minister and the governor of the Central Bank are due to hold a press conference later on Monday to "make some key announcements", the spokesman said.
Kabul Bank has branches in all major Afghan cities.
Debt burden
In the western city of Herat, hundreds of men and women had been waiting in long lines behind Kabul Bank's biggest branch since early morning, hoping to withdraw their money.
The run on the bank began last week after allegations of corruption and mismanagement, although officials have maintained the bank will not fail.
Kabul Bank, Afghanistan's largest commercial bank, is reported to have run up huge debts that it cannot afford to pay.
Last week, newspaper reports said the bank's two top executives - chairman Sherkhan Farnood and chief executive Khalilullah Ferozi, who each own 28% of the bank's shares - had been replaced and Mr Farnood ordered to surrender $160m worth of property purchased in Dubai.
However, Mr Fitrat has said the men resigned voluntarily as new regulations did not permit shareholders to hold executive positions.
Earlier, the US Treasury denied it was preparing to bail out the bank.
"While we are providing technical assistance to the Afghan government, no American taxpayer funds will be used to support Kabul Bank," Deputy Treasury Secretary Neal Wolin said.