UK car sales suffer sharp decline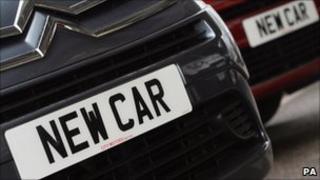 New car sales fell sharply in August for the second consecutive month, figures from the Society of Motor Manufacturers and Traders have shown.
August saw 55,305 new cars registered - down 17.5% compared with August 2009, the SMMT said.
The industry body warned that the market would remain tough for the rest of the year.
However it reiterated that it expected more than two million new cars to be sold in 2010.
That would be a 1.2% increase on 2009.
Scrappage impact
August's figures compared with about 98,000 sales in July - although August traditionally sees the lowest volume of monthly sales ahead of September's launch of the new registration plate.
Over the first seven months of 2010 the market remains 13.2% above the same period in 2009, with more than 1.3m new cars sold.
The end of the car scrappage scheme and the fragility in the economy meant the decline was widely expected - although the demand from firms for fleet vehicles is holding up, the SMMT said.
"The industry enjoyed a better-than-expected first half of the year and, despite the difficulties, SMMT is forecasting that new car registrations will close just ahead of 2009 figures," said SMMT chief executive Paul Everitt.