BA boss Willie Walsh reveals takeover ambition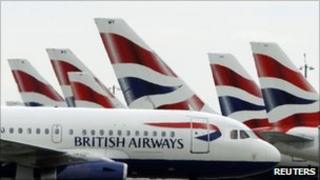 British Airways and Iberia have drawn up a shortlist of up to 12 airlines which they hope to buy or merge with once their own tie-up has been completed.
BA boss Willie Walsh did not name any of the airlines potentially involved.
However they are reported to include carriers in emerging markets such as India or China.
He made the comments in Mumbai while unveiling a code-sharing deal with India's Kingfisher Airlines.
'Focus'
Mr Walsh is keen to bring airlines together under the umbrella of the newly-created International Airlines Group (IAG) - formed by BA and Iberia.
"We have had a number of meetings where we have looked at airlines around the world and identified those that would be attractive to us," he said.
But he added the shortlist, whittled down from 40 carriers, was to give "focus" and that all 12 would not be pursued.
"We have not had any discussions with any airlines. There is nothing going on at the moment.
"We want to create a platform for like-minded airlines - those who believe that consolidation is part of the answer for the industry."
Mr Walsh is reportedly keen to achieve full mergers or acquisitions rather than taking minority investments in other airlines.
In 2008 BA failed in an attempt to merge with Australian flag carrier Qantas.
Sackings
BA has faced a tough year, partly because of a dispute with the Unite union, whose members have held 22 days of strike action at the airline since March.
The union is meeting this week to discuss further action.
The industrial dispute started last year over BA's plans to cut costs by reducing the number of cabin crew on aircraft, but the row intensified after the airline withdrew travel concessions from staff who went on strike.
Relations worsened after BA took disciplinary action against union members as a result of the dispute, including a number of sackings which Unite now says have reached double figures.