Strike starts at South African mine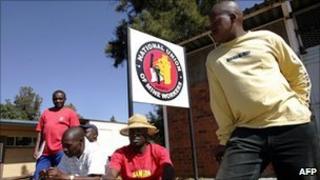 South Africa's National Union of Mineworkers (NUM) has said that its members at Northam Platinum have started a strike over pay.
Northam management is offering an 8% pay rise, but the miners are pressing for 15%.
The NUM says it represents over 8,000 miners out of Northam's 8,600 total workforce.
Northam said in a statement that 80% of its employees at the Zondereinde mine in Limpopo province had gone on strike.
It estimated that at current production levels, the company would lose about 9m rand ($1.2m; £810,000) a day.
Wider strikes
This is the latest in a series of walk-outs in South Africa over pay.
Public sector employees, including nurses, police officers, teachers and immigration staff, have been on strike, demanding an 8.5% rise in pay - they have been offered 7.5%.
Unions representing these 1.3m state workers are expected to announce later whether they will accept the latest government offer.
Last month, the Automobile Manufacturers Employers Organisation (Ameo) and the metal workers union, Numsa, accepted a 10% pay rise after an eight-day strike.
Earlier in the summer, workers at the electricity company Eskom took action which lead to a 9% pay offer and a housing allowance.
South African inflationary pressures were described last week as "relatively benign" by the country's central bank Governor, Gill Marcus. She said July's inflation rate of 3.7% was "lower than anticipated".