UK manufacturing 'boosted by overseas demand'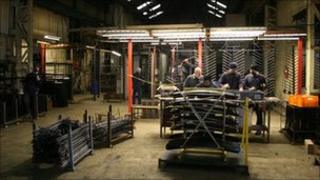 Rising overseas demand has created buoyant conditions for manufacturers, an industry study suggests.
The Engineering Employers Federation (EEF) predicted manufacturing output would increase by 3.7% this year and by 3.2% in 2011.
But separate construction industry research was less optimistic.
The Construction Products Association warned government cutbacks would lead to less spending on projects such as schools, hospitals and social housing.
This would cause a double-dip recession for the sector, it added.
'Reap rewards'
The EEF said that the pick-up in business meant manufacturers were creating jobs - although it added these were mainly going to temporary or agency staff.
The EEF also warned that cutbacks in government spending and the uncertain outlook for the US could affect growth.
"Manufacturers have continued to reap the rewards of growth in overseas markets, with the upswing being felt across all sectors and regions," said EEF chief economist, Lee Hopley.
"However, we have to maintain perspective that the recovery is coming from a very low base and the risks to the economy in the medium term haven't gone away."
In the construction industry, the Construction Products Association said that although output would rise 1% this year, it would fall again in 2011.
"We've had a very strong start to the year, but we're now facing severe public sector cutbacks at a time when the private sector has not strongly recovered to take up the slack," chief executive Michael Ankers told the BBC.
He added there would be little growth in housebuilding in the next three years.
"We'll see this year [and} next year rather bumbling along at the bottom. This year we'll be up slightly and next year down slightly. We hope from 2012 onwards we'll begin to see a more sustained recovery in the industry, but there are many uncertainties."
Job data
Data last week from the Office for National Statistics suggested that the UK building industry was facing a bleak future after construction orders suffered a 14% fall between April and June.
The figures surprised some analysts, especially given the construction sector was credited with the strong overall growth in UK economy in the second three months.
Separate economic data released on Monday, suggested that demand for new workers in leisure, tourism and accountancy had offset a slump in the public sector.
Recruitment firm Reed said the total jobs market had remained steady in August.