UK construction and services data surprisingly weak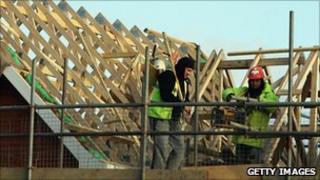 New UK data shows a surprise decline in new construction orders and a sharp slowdown in the services sector.
Construction orders fell 14% in the second quarter - their first fall in more than a year, according to the Office of National Statistics.
Meanwhile, the service sector purchasing managers' index for August gave its lowest level since April 2009.
Markets shrugged off the news, with the FTSE 100 index falling 0.2% before immediately rebounding.
The services sector index fell to 51.3 last month, from 53.1 in July, well below market expectations of 52.9. Any reading above 50 indicates expansion.
Markit, who publishes the index, said the number indicated GDP growth may slow to 0.5% in the third quarter.
Its service sector employment index came in at 46.9 - meaning the workforce actually shrank - down from 49.7 in July.
Separately, total new construction orders for the three months ending in June were £11.6bn, down from £13.5bn in the first quarter.