Goldcorp offer triggers Andean $3bn gold bidding war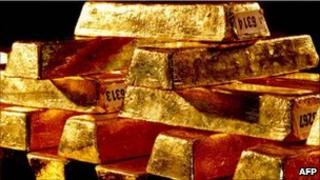 Rival Canadian gold mining companies Goldcorp and Eldorado have locked horns in a fight to buy up Andean Resources Ltd.
Eldorado moved first, offering 3.4bn Canadian dollars ($3.2bn; £2.1bn) for the Australian company early on Friday.
But Eldorado was trying to pre-empt Goldcorp, who immediately announced a C$3.6bn offer that had already been privately agreed with Andean's board.
The target company owns the valuable Cerro Negro gold project in Argentina.
Andean, which is listed in Sydney, saw its share price jump 31% on the news of Eldorado's bid to 6.40 Australian dollars ($5.80; £3.77), before trading in the company had to be suspended.
Goldcorp's higher bid, which - like Eldorado's - is being offered in exchange for its own stock, values the company at the equivalent of A$6.90 per share.
Goldcorp said that its offer had already been unanimously approved by both its and Andean's boards, and could be consummated by early next year at the latest.
The Cerro Negro gold prospecting project in Argentina's Pategonian province of Santa Cruz has yielded impressive results, with reported indicated resources of 2.54 million ounces of gold and 23.56 million ounces of silver.