Chinese consider rival Potash bid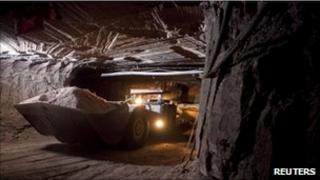 Chinese investors have approached a Canadian pension fund about a possible rival bid for the fertiliser giant Potash Corporation.
Alberta Investment Management said it was not interested in a rival bid and did not name the investors involved.
Potash Corporation is currently the subject of a $40bn (£25.8bn) hostile takeover bid from Anglo-Australian mining giant BHP Billiton.
The firm is based in the Canadian province of Saskatchewan.
Potash - or potassium carbonate - is mined in the province and used for fertiliser production worldwide.
China is the world's second-biggest importer of the mineral, after India, giving it a motive for investing in the industry.
It is not known how open to new bids Potash Corporation's board would be.
It has already rejected BHP Billiton's takeover bid, while the Canadian government has also expressed concern over foreign investors taking over the company.
Analysts suggest that Chinese investors are attempting to get Canadian backers on board for a bid in order to minimise these concerns.