Record sales of smokers' pensions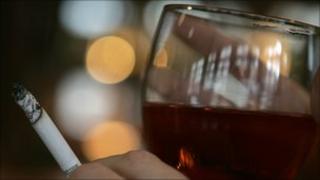 Smokers and people with weight problems are buying a tailored pension income in greater numbers, according to research.
Enhanced annuities provide bigger pensions for those with serious medical conditions or lifestyle choices that might lower their life expectancy.
Now sales of these annuities reached record highs at the start of the year, pension consultants Towers Watson said.
They rose by 41% in the first half of 2010 compared with the previous six months as people shopped around.
The Towers Watson research showed enhanced annuity sales in the UK rose to £1.26bn in the first half of 2010.
Sales hit records of £582m in the first three months of the year, and £676m in the second quarter, the figures show.
"The continued growth of the enhanced annuity market has a number of ramifications," said Andy Sanders, senior consultant at Towers Watson.
"For those lives that do not qualify for an enhancement, average expectations of life are longer and need to be reflected in lower levels of pension income offered.
"Providers, whether active in the enhanced annuity market or not, need to carefully assess the mortality assumptions in their pricing to suitably reflect the expectations of life of the consumers seeking their products," he added.
An annuity is a policy that gives people a guaranteed pension income.
Anyone who has built up capital in a personal pension policy during their working life can convert it into a regular pension income for the rest of their life.
Enhanced annuities, also known as impaired life annuities, account for about a third of annuities sold in the open market in the UK, Towers Watson said.