Plans for more £5 notes in cash machines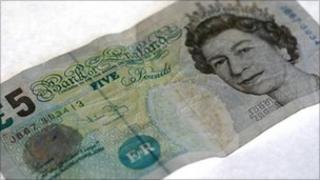 All banks and building societies have put in place plans to begin dispensing £5 notes from cash machines, a report has revealed.
Various consumer surveys have suggested that increasing availability of the banknotes from ATMs would be popular.
Last year, HSBC machines in the Midlands and South West of England were stocked with more fivers in a Bank of England trial.
A report by operator Link said that others were expecting to follow suit.
"In anticipation of the reforms proposed by the Bank of England, all of the UK's largest ATM-operating banks and building societies have put in place plans to begin dispensing some £5s from their ATMs, or, for the few that already dispense some £5s - Barclays, HSBC and Lloyds TSB - to increase the proportion of £5s dispensed," the Link Consumer Committee report said.
Quality
Notes used in cash machines need to be in good condition.
The recent trial concluded that if notes were sorted to a superior standard, then maintenance problems were generally avoided.
Owing to the regularity of use, a £5 note only lasts in circulation for a year before being too damaged to use. The lifespan of a £50 note is usually five years or more.
As well as the quality issue, common arguments against stocking more £5 notes included:
Cash machines running out of notes more frequently if lower denominations were used
The cost of changing ATM systems to accommodate fivers
Greater costs to companies that sort and supply banknotes
In his 2007 Mansion House speech, Bank of England governor Mervyn King said there was an ample supply of £5 notes, but it was often more economical for banks to stock machines with higher denominations.