ECB raises eurozone growth forecasts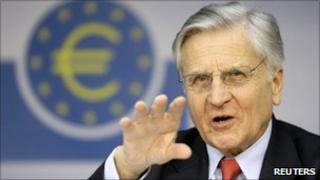 The European Central Bank (ECB) has raised its forecast for eurozone growth for this year and next year.
ECB President Jean-Claude Trichet said the upgrade reflected the "stronger-than-expected rebound" in the zone's economy.
He forecast GDP growth of between 1.4% and 1.8% for this year, and between 0.5% and 2.3% next year.
Earlier, the ECB kept eurozone interest rates on hold at 1%, as had been expected.
It is the 16th month running that rates have stayed at this record low, as the ECB continues to seek to help economies recover from the global downturn.
Most economists expect the ECB to keep rates at this level until 2011.
'Uncertainty'
Mr Trichet said the eurozone recovery has been supported by global growth and reflected "temporary domestic factors".
He added, however, that "uncertainty still prevails".
"One the one hand, global trade may continue to perform more strongly than expected, thereby supporting euro area exports," he said.
"On the other hand, concerns remain relating to the emergence of renewed tensions in financial markets and to some uncertainty about growth prospects in other advanced economies."
Strong growth
The ECB also raised its forecast for inflation, to between 1.5% and 1.7% for this year, and between 1.2% and 2.2% in 2011. This, Mr Trichet said, reflected higher commodity prices.
Mr Trichet also said the ECB would continue to provide special short-term funding for European banks.
As part of this programme, the bank will offer three-month loans in October, November and December.
Figures also released on Thursday confirmed that the eurozone economy grew by 1% between April and June, driven in part by strong growth of 2.2% in Germany.
The figures confirmed that the eurozone is growing faster than the US, which grew by 0.4% during the quarter.
Mr Trichet said he expected eurozone growth to "moderate" during the rest of the year.