Gazprom profits triple as cold winter boosts demand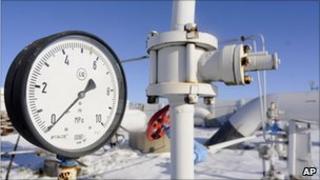 Russian gas monopoly Gazprom has reported a threefold surge in profits for the first three months of the year, as the cold winter boosted demand.
Net profit came in at 325bn roubles ($10.6bn; £6.9bn), compared with 103.7bn roubles a year earlier.
Sales volumes to Europe rose by 37%, which helped to offset a fall in gas prices of 36%, boosting overall revenue to 957bn roubles.
Gazprom supplies about one quarter of all Europe's gas needs.
The company also said revenues were boosted by a 53bn rouble gain on foreign currency movements, compared with a loss of 149bn roubles a year earlier.
It was also able to cut its debt levels by almost a third, to 977bn roubles, during the quarter.
Earlier this week, the European Commission said it was concerned about a proposed gas deal between Russia and Poland.
It said the pipeline between the two countries should be managed independently and open to third-party suppliers.
However, Polish Prime Minister Donald Tusk said that, despite the Commission's reservations, the deal should be signed within a matter of days.